Episodes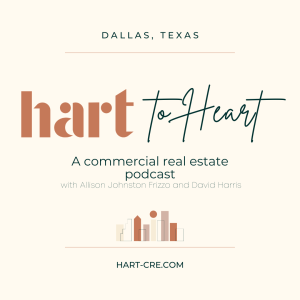 Tuesday Aug 02, 2022
Tuesday Aug 02, 2022
In this first episode of Hart to Heart our hosts, Allison Johnston Frizzo and David Harris, talk about their careers, how their entrepreneurial spirits have guided them to this company, and essential traits successful commercial real estate agents should have to make a name for themselves in this industry.
Hart Commercial
Founded on a passion for fostering the next generation of commercial real estate professionals, Hart Commercial is an energetic brokerage firm providing personalized solutions for clients in the Dallas/Fort Worth Metroplex.
Hart was authentically crafted by CRE's brightest leading voices dedicated to providing a diverse platform that cultivates growth in future leaders.
We do things differently…